KAI Borong 50 Lokomotif Baru dari Amerika Serikat
Jumat, 17 Oktober 2014 | 12:36 WIB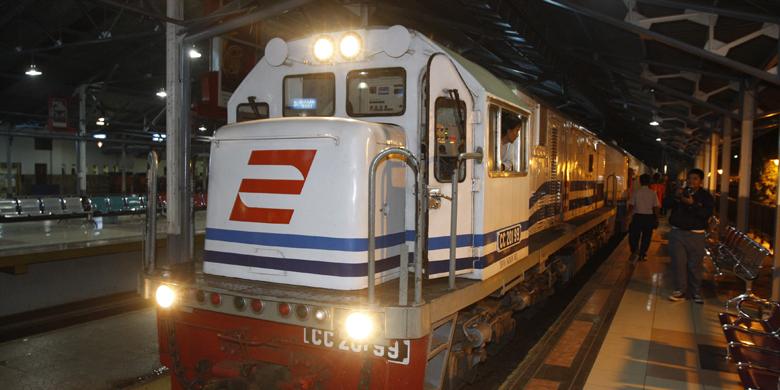 JAKARTA, KOMPAS.com - PT Kereta Api Indonesia (KAI) akhirnya merealisasikan rencana menambah armada kereta barang untuk tahun buku 2014.
Sedikitnya 50 lokomotif baru buatan General Electric (GE) Transportation sudah dipesan untuk menambah kapasitas angkutan barang di pulau Sumatera dan Jawa.
Perusahaan plat merah menggandeng perbankan Amerika Serikat (AS), Export Import Bank of The US dalam hal pendanaan. Kedua institusi ini bersama GE Transportation menyepakati pinjaman dana sekitar 94,3 juta dollar AS untuk mendanai pembelian 50 lokomotif tersebut pada Rabu malam (15/10/2014).
Fred P. Hochberg, Chairman dan President Bank Export Import US mengaku puas bisa memberikan fasilitas pinjaman ke KAI. Ia menilai, KAI bakal diuntungkan dengan kerjasama ini karena mendapat armada lokomotif baru.
Russell Stokes, President dan Chief Executice Officer GE Transportation bilang pihaknya segera membuat 50 lokomotif di Pennsylavania, AS. Ia menargetkan pengiriman lokomotif ke Indonesia bisa terlaksana tahun depan.
PT. Kereta Api Indonesia (Persero) sendiri memperkirakan lokomotif GE Transportation ini akan tiba di tanah air sekitar kuartal III dan kuartal IV 2015. Menurut Bambang Eko, Direktur Komersial KAI, lokomotif ini akan digunakan untuk menambah kapasitas angkutan batubara. "Rencananya sekitar 39 kereta lokomotif ke Sumatera dan sisanya, 11 kereta untuk Jawa," urainya ke KONTAN.
Kereta angkutan batubara memang tengah menjadi fokus perhatian KAI.
Perusahaan transportasi ini tengah bemencoba merubah komposisi bisnisnya dengan tidak lagi mengandalkan pendapatan dari kereta penumpang sebagai pemasukan utama. Pendapatan kereta barang ditargetkan bisa menyumbang 60 persen pendapatan konsolidasi, sedangkan pendapatan kereta penumpang 40 persen.
Tahun ini, KAI akan membeli 600 kereta angkutan batubara dan pengembangan dua jalur ganda kereta batubara di Sumatera. Rencananya, rute Tanjung Enim Baru – Tarahan untuk angkutan batubara PT Bukit Asam dan jalur Tanjung Enim Baru - Simpang – Kertapati untuk non Bukit Asam.
"Sumber Berita"
http://bisniskeuangan.kompas.com/read/2014/10/17/123600926/KAI.Borong.50.Lokomotif.Baru.dari.Amerika.Serikat?
---------------------------
Alamat CC206 bakal narik babaranjang bareng si CC205 kah di divre III? Kaget saya
Asik nih kedatengan si puongs di divre kalop gitu
Secara dari prasarana rel yang bagus di Sumatera hanya Divre III.

Bisa juga bukan CC206 ya?
Malah CC207